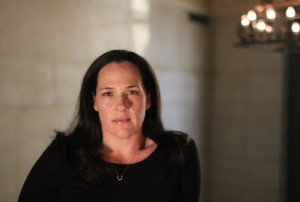 Over the past two decades, I've become a Superfan of network television news programs I've come to lovingly refer to as "death shows." You may see them briefly on CBS or NBC and flip right past them because they're too gory, shows like Dateline or 48 Hour Mysteries. I'm an ardent devotee, but not in a creepy way. My fascination with crime is everlasting and here's why.
As a field producer for Fox News Channel in San Francisco, I covered many atrocities. Remember when California Congressman Gary Condit was suspected of murdering his young lover and Capitol Hill intern Chandra Levy?
I covered that case for two months in Modesto, California. There was a murder in Northern California suspected of being connected to the Smiley Face Killer (note: no connection). And of course I've reported on my share of local crime stories in London, New York, Boston and San Francisco. None of them were pleasant but all were intriguing.
My father was a criminal law professor at the University of Texas in Austin for almost two decades. We both started teaching at the age of 28—he at UT and me at Fordham University in New York. In 2003 he decided to start a clinic to investigate cases of innocence aptly titled the Actual Innocence Clinic.
After working as a writer and producer at WCBS and ABC News Radio in New York I settled back home in Austin in 2005. When my father died I became involved in the clinic and organized a sort of metaphorical bridge between UT's journalism school and the law school class.
I co-taught the clinic for several years: My journalism students learned about investigating cases and law students learned basic journalism skills. I escorted them into prison to interview prisoners; the students bristled at the sign that read: "We will shoot all hostages past this point." We went over case files, searched court records and filed public information requests. It was one of my favorite classes.
Back in college, I was a reporter for UPI in London for about six months. I studied the history of the city, including the Great Smog of 1952, one of the most intriguing periods in London's history.
I love investigations of any type—social injustice is fascinating, so this book has been a wonderful journey for me.
In my other life away from writing books, I'm a senior lecturer in broadcast journalism at UT-Austin. I've also produced almost two-dozen documentaries including longer form pieces for Nightline, WCBS and Fox as well as independent films. I consider myself a good storyteller, but I suppose you'll be the judge. I'm also a good part Irish with a splash of Scot!